AK-47
AK-47 Customize
Once you get beyond the United States borders the AK-47 is easily the most recognizable and popular semi automatic rifle on earth. Therefore in keeping with our "customizing" series the AK-47 absolutely must be included.
---
AK-47 Buttstocks
So you want to put an AR-15/M4 style collapsible stock on your AK-47. VLTOR comes to the rescue with their collapsible stock adapter.
Aluminium receiver extension replaces the standard, fixed buttstock on your AK-47 to let you install an M4 collapsible stock on your rifle. Provides five locking positions; corresponding white index numbers are visible through the release pin access hole found on many buttstocks. Near-receiver sockets on each side of the extension accept quick-detach, push-button swivels for single-point sling attachment. An internal storage compartment is accessible by removing screw-on cap from the rear of the extension. Includes mounting hardware.

SPECS: Aluminium, hardcoat anodised, matte black finish. 8" (cm) overall length. Fits most AK-47/AKM/AKS rifles with stamped receivers, except the Yugo RPK and Iraqi Tabuk. Accepts Colt and other mil-spec collapsible buttstocks that fit a 1.14" dia. buffer tube. Kit includes stock extension, end cap, mounting bolts, nut, (3) dust plates,
---
Rugged, injection molded, fiber-filled synthetic polymer material won't dent, warp or crack in the harshest environments or tactical conditions. All pieces provide a tremendous improvement in appearance and performance for most variants of the AK-47. USA manufactured mold markings on the buttstock and pistol grip help meet parts requirements for rifles assembled from surplus parts kits. Fixed buttstock includes a removable, stamped steel buttplate and side-mounted sling loop; duplicates standard military length-of-pull. Lower forend includes a removable, internal steel heat shield. All parts feature a molded-in, non-slip textured finish.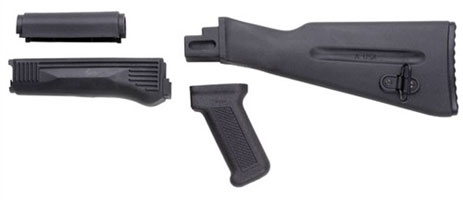 The K-Var AK 47 4-piece Stock Set NATO Length comes complete with stock, pistol grip, upper and lower receiver. It is crafted in the USA from high quality polymer and is equipped with a stainless steel heat shield.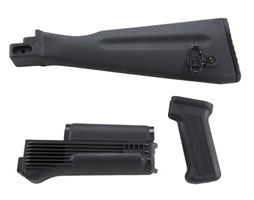 Tapco AK Original Style Buttstock Black STK06101-BK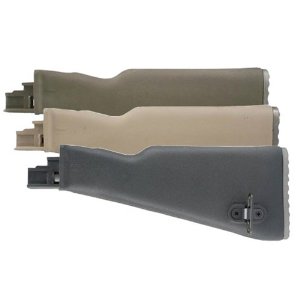 ---
There are a few paths to choose with regards to AK-47 magazines. The most common is the surplus magazine route. These surplus magazines are often under $10 with better prices on bulk purchases. The other path is new manufacture from folks like Tapco and Promag which will cost between $12-$17. I cant really offer an opinion on what to get. The AK-47 is pretty tolerant to magazine variances.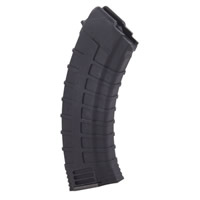 ---
There's are few sources for AK-47 barrels many of which are no better then what you may be attempting to replace to start with. Keeping that in mind the only company I am aware of manufacturing quality AK-47 barrels is Green Mountain Rifle Barrel Company. If there are other sources please let me know through the contact page.

---
Yes even an AK-47 can have a 2-3 pound trigger pull thanks to Jard Triggers. The price about $100 isn't to steep either compared to triggers for other weapon systems such as the AR-15. If your on a budget Tapco has AK-47 Trigger upgrades for less then $30.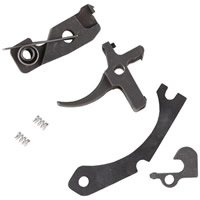 ---
Aggressive, scallop-type cuts deliver superior gas dispersion to help stabilize the muzzle during periods of sustained fire. Special internal blast chamber with side-facing ports help reduce recoil and hide muzzle flash. Includes washer for precise indexing of the side ports. Wrench flats directly over the internal threads help ensure easy installation. Includes instructions.
SPECS: Steel, black, matte finish. Includes washer. Fits AK-47 (7.62 x 39mm). 2-1⁄8" (5.4cm) long x 7⁄8" (22mm) diameter. 2 oz. (57g) wt. 14"-1 tpi LH thread.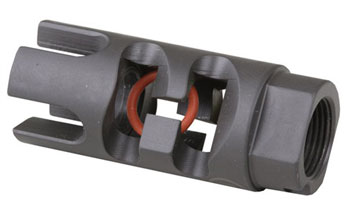 Developed for a SOF application and finally available in the retail market. This Vortex model is suitable for use on all Kalashnikov variants in 7.62mm M43, 5.45mm M74 and 5.56mm NATO that are threaded 14 X 1M (Left Hand). Sound suppressor capable.
The world's most effective flash eliminator is now available for the Kalashnikov-designed family of weapons. The AK47/AKM Vortex will fit any Kalashnikov-based rifle with muzzles threaded with the standard 14X1mm left hand configuration. This includes all weapons chambered in 5.45mm M74, 5.56mm NATO and 7.62mm M43 calibers. This Vortex variant is not compatible with the AK74/AK100- series rifle, which requires P/N 6027V.
Based on the combat-proven Vortex® system, the definitive development of the patented Vortex® design now features a 40% increase in structural rigidity. This new flash eliminator also enables the use our quick disconnecting AK-DC ("Direct Connect") sound suppressors. The new AK47/AKM model features our patented 15-degree helix, guaranteeing a complete propellant burn and negligible flash, unlike competing closed-end units or competing straight-flute designs. Left hand helical flutes will not loosen under sustained fire. Also, the self tightening design does not require the use of the standard AK-pattern front sight housing detent pin. The aligning of exiting gases with this patented design has been proven to enhance practical accuracy.
Check out all the details in this .pdf

Bi-directional, slanted ports along with a tapered bore provide better combustion of gases to reduce muzzle flash and preserve your night vision. CNC machined, external grooves help reduce barrel vibrations for improved bullet stability and accuracy. Flat, rounded, muzzle face prevents catching or snagging muzzle tip during deployment. 2 " length allows a 14" long barrel meet legal requirements when permanently installed. Wrench flats directly over the internal threads help ensure easy installation. SPECS: Steel, black, matte finish. Includes washer. Fits AK-47 (7.62 x 39mm). 2" (5.7cm) long x 7⁄8" (22mm) diameter. 1.9 oz. (54g) wt. 14"-1 tpi LH thread.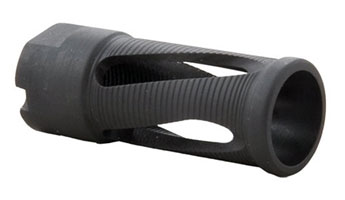 ---
Polymer buffer drops into receiver to provide a cushion during cycling that reduces bolt slap, felt recoil, and overall wear and tear. Prevents the bolt from making contact with the receiver while gently slowing it down to avert receiver damage. Installs easily over rear of spring assembly; no permanent modifications required.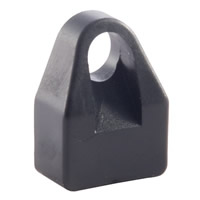 ---
AK-47 Sights
High visibility sight combination easily replaces the factory sights on your AK-47 or variant for fast sight acquisition in high stress or low light conditions. Machined steel set includes an adjustable white stripe, V-notch rear sight and a genuine Trijicon brand titrium lamp with large white ring for the front. Front sight completely replaces the factory windage drum and front sight post. Large, single setscrew in the tangent rear sight provides fine adjustments for elevation; dual setscrews in the dovetailed rear V-notch block securely lock-in your windage settings. Includes installation tools, thread locking agent, and detailed instructions.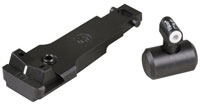 ---
Get the look of an AK-47 silencer without the legal hassle. Note: this is not a real silencer. It does not alter the weapons sound at all.

---