Tactical M14, M1A:
I have always wanted an M14 based rifle. Several years ago I passed on a great deal through the DCM program and then I hesitated on a Springfield Armory SOCOM II last fall and have been kicking myself in the butt ever since.

Now if you have been following the progress of the AR builds at our sibling web sites 308AR.com and AR15Tactical.net you'll notice that I have several rifle builds under way. During the course of these builds I've been frequenting the Fulton Armory web site. If your not familiar with Fulton Armory they assemble some of the finest AR-15's and .308 AR's available and aside from the AR's Fulton Armory is most know for their M14 and M1A rifles. These frequent visits has got me really wanting to build a rifle similar to their SOPMOD rifle. Thats what Im going to do. Im going to build my first Tactical M14 M1a Rifle.

So in style with our other customizing pages here at CombatRifle.net as I research my options I will present them here with my opinions and thoughts occasonal added if the manufacturers info is lacking. As always visitor feedback and images are always welcome. Enjoy!!
---
The Troy Industries M14 Modular Chassis Systems (MCS) is CNC-machined from a solid billet of 6061-T6 aluminum and is designed to significantly enhance all combat-relevant aspects, including reliability, accuracy, and tactical accessory-mounting capability. Interestingly, the M14/M1A MCS allows for a lower bore axis, placing the barrel in direct line with the shooter's shoulder, just like an AR-15/M16 variant rifle or SOPMOD M4/M4A1 Carbine, providing a straight-line (a.k.a. in-line) recoil impulse and reduced muzzle rise and muzzle climb for enhanced control, yielding more hits on target, especially during rapid-fire strings against multiple and moving targets. The MCS, of course, features an integral Mil-Std-1913 Picatinny Quad Rail / Forend Rail tube for mounting tactical rifle accessories, including combat optics, lasers, tactical white lights, vertical foregrips, etc. The top rail is a full-length rail.
If you purchase a Troy M14/M1A Modular Chassis System (MCS), you've currently got two premium buttstock choices: a Vltor Modstock telescoping stock or MagPul Precision Rifle Sniper stock. However, Defense Review would think that a MagPul CTR Carbine Stock, MagPul UBR (Utility/Battle Rifle) stock, or Lewis Machine & Tool (LMT) SOPMOD Buttstock Assembly (a.k.a. Crane Stock a.k.a. SOCOM Stock) would also be viable tactical buttstock choices for the MCS.
The Troy MCS is available in two colors: Tactical Black and Dark Earth (a.k.a. Coyote Brown). The MCS utilizes a Tango Down pistol grip and Tango Down Rail Grips (a.k.a. rail covers a.k.a. rail panels).
It looks like Troy Industries has teamed up with Fulton Armory to build an M14/M1A "Modular Combat Rifle (MCR)", which reportedly combines the MCS with original GI or Mil-Spec M14/M1A rifle components/parts.
The Springfield Armory SOCOM 16 M1A carbine is also a viable weapons platform for the Modular Chassis System (MCS).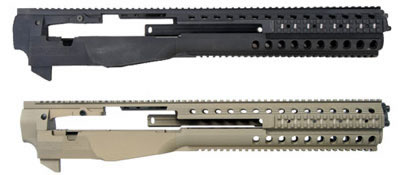 Modstock consists of a modified USGI fiberglass stock fitted with a machined aluminum adapter supporting an AR-15-style receiver extension for the collapsible "Clubfoot" buttstock. Five locking positions on the extension provide a length of pull adjustment from 10 1/2" to 14", and a 1" range of vertical adjustment helps you set the correct stock height for a solid cheekweld. Two, detachable, full-length storage compartments provide additional cheek support; each waterproof compartment holds up to 2 AA or 3 CR123 batteries. The aggressive surface texturing and hand-filling contours of the Tangodown pistol grip ensure positive weapon control. Storage recess in the grip can hold spare batteries or other small items; flexible rubber cap seals out dirt and moisture. Another compartment in the receiver extension is ideal for a field cleaning kit. Sockets on each side of the stock adapter accept the included quick-detach, push-button swivel for an ambidextrous 1 1/4" single-point sling. Note: stock is designed for use with the Springfield Armory CAS-14 Cluster Rail system and does not have a forward sling attachment point. Models available in matte black or tan.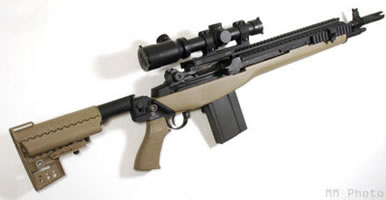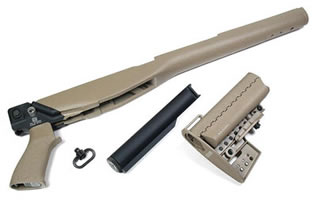 ---
Will go here
Check-Mate is the most popular and respected of the M14 magazine's available in 5, 10, 15 and 20 round capacities with a 25 round magazine in development. Update 25 round magazines are now available.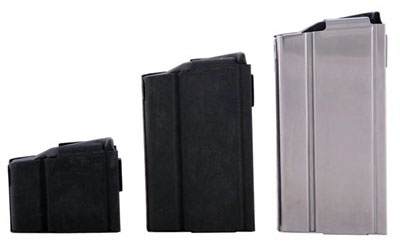 Click the link above for the time being
Click the link above for the time being
Click the link above for the time being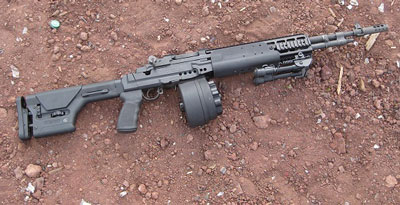 Who does't want a reliable 50 round drum magazine for their favorite .308? XS Products X-14 50 round Drum Magazine fills the bill and empties the wallet.
---
Nobody knows the M14 like Fulton Armory. Their line of M14 barrels is among the best.

---
M14 M1A Triggers
Will go here
Click the link above for the time being
Click the link above for the time being
---
Will go here
---
Click the link above for the time being
Click the link above for the time being
Click the link above for the time being
---
There arent too many choices here but what is available is top notch with Fulton Armory and Sadlak Industries
The Sadlak Industries precision Titanium Nitride (TiN) coated pistons are made to the exact GI specifications with all critical dimensions individually inspected. The 420 stainless material and heat-treating operations are both certified to assure quality. The Sadlak pistons have a highly polished surfaced using a non-contact electro-polishing method that maintains tolerance on the critical diameter and does not "roundľover" the edges on the grooves. The Sadlak pistons are then hard coated with a gold colored Titanium Nitride (TiN) finish. This coating, often used on machine cutting tools, helps reduce galling and pitting and holds up better to the high heat and abrasiveness of gunpowder and primers. The resulting effect is a smoother action an improved life of the piston and cylinder.

Precision machined, 420 stainless steel pistons are highly polished and heat treated for a smooth, hard surface that resists carbon build-up, reduces friction, and helps maintain critical tolerances for improved service life and reduced gas cylinder cleanings. Smooth surface Stainless Steel piston is micro-finished, then electro-polished to prevent rounding of the gas grooves for smooth, reliable cycling and extended service life. Titainium Nitride model adds an extra hard, TiN coating for increased protection against burnt-in powder fouling, corrosion and excessive heat build-up. Also helps reduce wear of the push grooves for more consistent gas pressure.

---
Will go here
Proven armorer's tool makes both assembly and disassembly a simple, one-hand task by capturing the hammer, plunger and spring so the pin can be removed, or inserted easily. Steel fixture is pre-drilled; can be attached to the bench for production work. Works for M1 Garand, M14 and M1A.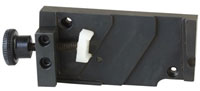 ---
Will go here
Click the link above for the time being
Click the link above for the time being
Click the link above for the time being
Click the link above for the time being
Click the link above for the time being
---
Click the links below
---
---
Contact us for more info