Customize Your Shotgun:
---
Tactical Shotgun
The purpose of this mini article is to take a look at what it takes to turn your average shotgun into a tactical shotgun or if you purchased a tactical shotgun and are looking to customize it hopefully we can inspire you as well.



Remington 870 Express Tactical

---
Tactical Shotgun Optics and Sights
The bold and colorfully sighted Advantage Tactical Universal Shotgun Sight is the fastest iron sighted shotgun system in the world. Premiered first on handguns, the ATS is now available for any 14" to 20" single-barreled, non-ribbed, shotgun barrel with a diameter of between .840" to .890".
The ATS Universal Shotgun Sight will also accommodate extended magazines. Just slide it over the end of the barrel and it's ready to go. In addition, the ATS Universal Shotgun sight is adjustable for both windage and elevation and may be personalized to match the color preferences of each shooter. For more information on the tactical shotgun sight with the fastest sight acquisition in the world, contact: WrenTech Industries, LLC, PMB#510, 7 Avenida Vista Grande B-7, Santa Fe, New Mexico 87508; 310-316-6413 or 505-466-1811.

---
Tactical Shotgun Stocks
Bolt-on replacement stock gives your Remington 870 the control and adaptability of a collapsible M4 carbine stock. Telescoping, five position buttstock allows instant length-of-pull adjustment to adapt to body armor and heavy tactical clothing. Aluminum receiver adapter bolts to rear of receiver with included mounting hardware and requires no permanent alterations to your gun. CNC machined to precise dimensions, then mil-spec Type III hardcoat anodized for added strength and wear resistance. Accepts the included M4 SOPMOD buttstock or any aftermarket stock that fits a mil-spec buffer tube. Hogue overmolded soft rubber pistol grip with palm swells and finger grooves bolts solidly to receiver adapter to reduce shock and improve shooter control. Low Tube model has receiver extension tube positioned to allow use of iron sights or the original shotgun bead. Length of pull adjusts from 10½" to 13½". White index numbers corresponding to locking positions are visible through a witness hole in the top of the stock. Receiver adapter has mounting holes on sides and top for the included push-button sling swivel. Recoil Reducing model offers the low tube position with an Enidine Shot Shock hydraulic energy absorber to reduce felt recoil by as much as 70% and give you better control for faster, more accurate follow-up shots. L.O.P. adjusts from 11½" to 14½". No sling swivel mounts or index numbers.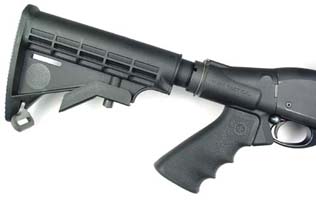 This is a pretty slick setup, it allows the shooter to have proper cheek weld when using optics on the shotgun, the adapter was designed specifically with this purpose in mind. Optics can be mounted via the picatinny rail, which mirrors the dimensions of a flat top AR15 upper receiver identically. The rail being the same height insures a sight picture like that of an optic mounted on an AR15 rifle.
Machined aluminum stock adapter with Picatinny rail lets you upgrade your shotgun with an AR-15 or M4 buttstock to create the ultimate, tactical Remington 870 or Mossberg 500/590. Changes the geometry of the gun to minimize muzzle jump, and requires no drilling or tapping of the receiver. Mossberg models feature an ambidextrous replacement safety machined specifically to eliminate failure caused by sand and grit. Conversion Unit includes adapter/rail assembly only to accept your aftermarket buttstock and pistol grip, A1 adds a fixed postion, A-1 buttstock and standard AR-15 pistol grip, M4 includes collapible stock and pistol grip.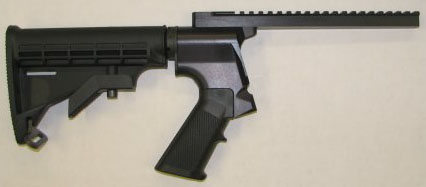 Minimum-drop, straight-line buttstock enhances recoil control. Pistol grip provides increased leverage to hold the muzzle down. Made from durable, poly-resin material for years of service life. Includes energy-absorbing, molded-rubber recoil pad. TAC III design incorporates additional shell storage in the buttstock. TAC IV is solid; TAC IV-S model is sized for the smaller shooter or those wearing body armor. All Remington 870 and Mossberg 500 models include the short, Law Enforcement (LE) forend and Mossberg models ONLY fit guns with a 7Ύ" action slide. Benelli fits Super 90, includes buttstock only, no forend.

---
Here is Command Arms & Accessories' new stock assembly and forend for the pump action Remington 870. It features the popular collapsible stock and pistol grip with interchangeable frontstraps and backstraps (two items that can also be purchased for AR rifles) and an integral optics rail that runs along the top of the shotgun's receiver. This should make for a strong and reliable platform that brings optics closer to the shooter's eyes. Also introduced at the NRA show was a forend with a pair of short Picatinny accessory rails at the 9 and 3 o'clock locations.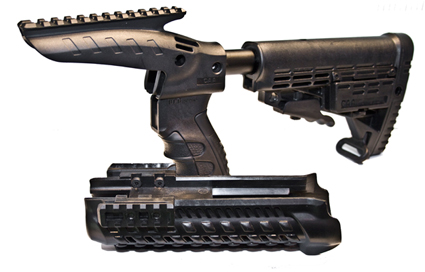 ---
Tactical Shotgun Accessories
Rugged, machined aluminum rail mount clamps around 12 gauge shotgun magazine tube to provide rail space on three sides for secure mounting of tactical lights and laser aiming devices. Gets your light and/or laser where it belongs—up front—so it won't be obstructed by your support hand or other gear. Gives your tactical or home-defense shotgun added versatility to maximize your readiness for meeting threats effectively in low-light conditions. Accepts both Picatinny and Weaver-style accessories. Requires less than 1½" of space ahead of forearm on 1" O.D. factory magazine tube, or clamp onto aftermarket mag extension tube. Attaches with two steel machine screws; no permanent alterations required.
---
TACTICAL SHOTGUN QUAD RAIL FOREARMS & FORENDS
ELITE TACTICAL ADVANTAGE offers a few interesting upgrades for your Tactical Remington 870, 887, Remington 1100, 1187. They are the RHINO RAIL and BOBCAT FOREND.
The Rhino Tactical Rail allows you to easily and quickly equip and protect your Model 870/887 or 1100/11-87 shotgun to handle mission critical situations like never before possible. Designed from the ground up for special unit deployment, its strength and functionality make it practically indestructible.

Fits 14" LE barrels and up (14, 18, 20, 22 etc)
Modular saddle system sold seperately (for guns with receivers that are not drilled at tapped)
The newest NATO Accessory Rail (NAR) STANAG 4694 specifications. (100% backward compatible with MILSPEC/Picatinny 1913 standards.)
Billet Aircraft Aluminum Construction
Complete system (rail and mounting hardware)l weighs only 10.7 oz.
Precision engineered and CNC Machined for balanced control
Heat shield with dissipating fins over entire length of the barrel
Super-Duty wall construction
Reduce felt recoil
Weight distribution reduces muzzle flip to achieve faster follow up shots on target
22" of rail on 4 surfaces allow the addition of any and all accessories the end user desires
Mil-Spec Type III Black Hardcoat finish or unfinished silver so you can color or camouflage to your preference
Intimidating profile transforms the already fearsome shotgun into a never before encountered juggernaut
Fits any Remington 870/887 or 1100/11-87 model shotgun
Simple 10 minute install with common tools

Remington 870 Shotgun Bobcat Picatinny Rail Forend. Replaces your plastic pump forend, allowing a mounting platform for a variety of accessories. It can be used alone or combined with the Rhino Rail.
Built on the newest NATO accessory rail Stanag 4694 Specifications (MIL-SPEC/Picatinny 1913 Standards).
Precision CNC Machined
Mil-Spec Anodized Finish
Fits Remington 870 Shotguns
Installs easily within minutes
Angled ramps aid in reloading and charging in high stress situations
Lightweight and only adds 4 oz. to your shotgun. 9 ounces total
Will not fit the Remington 887 Forend as the action tube on this shotgun is significantly shorter and the forend is different than the 870.
---
---