EOTech 557 AR223 Holographic Weapon Sight (HWS) Night Vision Compatible (M557):
Brownells
---
The new 557.AR223 has been developed to optimize the functionality of the HWS. The buttons have been moved from the back to the left side for instant access, allowing a magnifier, night vision, or a back up iron sight to fit closely to the HWS body. This new button position allows the user to operate the HWS function switches easier than ever before. Additionally, a portion of the front base has been raised to allow the sight to fit over standard hand guards found on many M-4 or M-16 style weapons.

The 557.AR223 is configured with a new ballistic matching reticule image for the M4 carbine. The battle tested circle/dot reticule will be offered along with a series of 1 MOA aiming dots that are vertically aligned and calibrated specifically for the ballistic drop of .223 caliber ammunition. The reticule provides 4 aiming dots for target distances of 0-300m, 400m, 500m, and 600m.
Buttons on left side to work specifically with NV or magnifiers
AA Battery model (supports Lithium or Alkaline)
Ballistic reticule specific to .223 caliber munitions
Compatible with Gen I-III+ Night Vision Systems (tandem operation)
Raised 7mm base
Optics: Transmission holography - parallax free
Magnification: 1x
Eye Relief: Unlimited
Length/Width/Height: 5.70"x2.1"x2.8" (133x49x71 mm)
Weight: TBD
Temperature: -40 to 150 F (using AA lithium); -20 to 140 F (AA Alkaline)
Waterproof: Submersible to 33 ft depth
Sealing: Fog proof internal optics
Color/Finish: Non reflective black with hard coat finish
Adjustment (per click): 0.5 MOA (1/2" at 100 yd's)
Adjustment Range: +/- 40 MOA travel
Mount: 1" Picatinny (MIL-STD-1913) rail
Return to Zero: Repeatable to 1 MOA after re-mounting
Optical Surfaces: Anti-glare coating
Window Dimensions: 1.20" x 0.85" (30 x 23mm)
Front Window Material: 1/8" solid glass
Rear Window Material: Shatter resistant laminate (3/16" thick)
Field of View (100 yd's): 30 yd's (28m) at a 4" eye relief
Standard Reticule: AR223 BDC reticule with additional drop point dots for 400, 500, and 600 meters
Brightness Adjustment Range: 146000:1 brightest to lowest
Night Vision Brightness Range: 1280:1 with NV switch engaged
Function Button Location: Left side near the rear of sight
Power Source: 2x 1.5V AA batteries (supports lithium, alkaline, or rechargeable)
Battery Life: 1,000 continuous hours (lithium) at nominal setting 12; 600 continuous with AA alkaline
Brightness Settings: 30 settings with scrolling feature (10 settings for NV use)
Auto Battery Check Indicator: Flashing reticule upon start-up
Auto Shut-down: At 8 hrs- programmable to 4 hrs
---
The most two most important things to remember when using the EOTech HWS optics are as follows: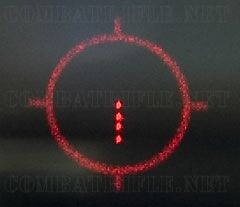 Focus on the target and not the reticule - Failure to do so will make you think that the optic is defective when in fact its not.
Use the lowest setting possible to keep the reticule from blooming and becoming unusable
Below are random images of the EOTech 557 AR223's reticule in various states of focus and brightness. Click the images to view them full size.
---
---
Click the images below to view them full size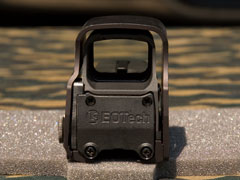 ---
---